CCA Chatter
CCA News | March 19, 2021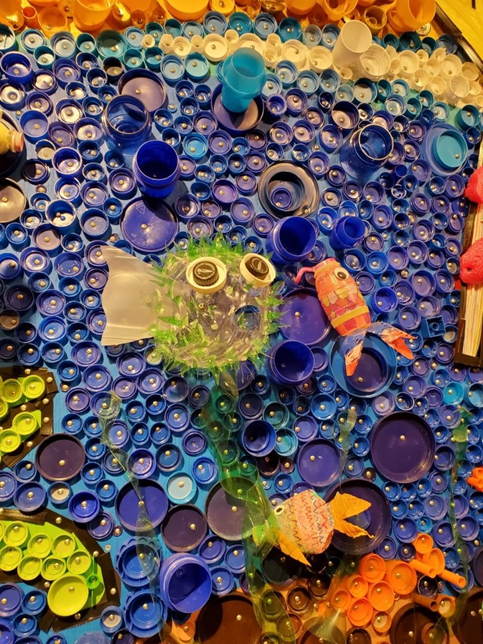 WE NEED BOTTLECAPS!
If you have bottlecaps, we can use them at the MAIN CAMPUS (GRADES K-5), here's why:
Warren Tracey Davis is an award-winning portraiture artist & teacher specializing in acrylic painting and pencil drawings. His art can currently be seen in numerous galleries in Pennsylvania, including The CALI's here in Carlisle, Southern Alleghanies Art Museum in Bedford, PA, as well as at his primary studio at Roots Auction in Lancaster, PA, just to name a few.
We are excited to be assisting Warren in his latest creation. We are hoping to collect enough plastic lids/plastic bottle tops (NO PLASTIC BOTTLES OR CONTAINERS, JUST THE TOP/ LIDS) to create an amazing work of art! On April, 17th Mrs. Coler and a group of CCA students will be heading to Roots Country Market in Lancaster to assemble the 3D mural. If there is anyone else interested in help, please feel free to reach out to Mrs. Coler!
A bin has already been given to each classroom and a competition between each grade is set to see who can collect the most tops! The winning class will receive a PIZZA PARTY!!!
PTA
PTA plans special monthly breakfasts for our staff (at both campuses).  If you are able to help with any of the breakfasts, please sign up here: https://www.signupgenius.com/go/4090c48aea82ca0fa7-ccastaff4
SCRIP
CCA needs your help. Join us in the most convenient fundraiser there is—shopping with gift cards to earn on gas, groceries, and everything else you are already buying. You can earn $1,000 or more every year for what is important to your family.
Experience the right way to fundraise
Gift card fundraising is the best way to raise money for our organization. Buy gift cards from your favorite brands to earn on your daily purchases. It's never been easier to create opportunities for what matters most to you. No extra money spent. No extra time wasted.
How it works:
Raise money by purchasing gift cards at face value
Shop 750+ top brands and immediately earn up to 20% on every gift card you buy. You can easily raise $1,000 or more every year.
Use gift cards at full value for your daily purchases
Earnings come from brands, not from your pocket, so gift cards are worth every penny. Raise money simply by doing everyday things—like grabbing your morning coffee or ordering dinner for the family.
How to get started
Create an account on the RaiseRight app or at ShopWithScrip.com using our organization's enrollment code: 4ED421D458L91
Seamlessly check out and receive eGift cards faster by securely paying online with a linked bank account or credit card.
Have questions? Contact: Jami Mirandou, jmirandou@carlislechristian.org
BOXTOPS/COKE TABS
Send your BoxTops into school or check out this "How To" to scan them yourself! BoxTops New App, Scan for your School
You can also send in tops from Coca Cola Products to be entered into the Coke Rewards Program. The tops equal cash for CCA!
Let's continue working together for a healthy, successful school year!
Recent Posts
CCA Chatter
WE NEED BOTTLECAPS! If you have bottlecaps, we can use them at the MAIN CAMPUS (GRADES K-5), here's why: Warren Tracey Davis is an award-winning portraiture artist & teacher specializing in acrylic painting and pencil drawings. His art can currently be seen in numerous galleries in Pennsylvania, including The CALI's here in Carlisle, Southern Alleghanies Art […]
Read more »
CCA Chatter
WE NEED BOTTLECAPS! If you have bottlecaps, we can use them at the MAIN CAMPUS (GRADES K-5), here's why: Warren Tracey Davis is an award-winning portraiture artist & teacher specializing in acrylic painting and pencil drawings. His art can currently be seen in numerous galleries in Pennsylvania, including The CALI's here in Carlisle, Southern Alleghanies Art […]
Read more »
CCA Chatter
WE NEED BOTTLECAPS! If you have bottlecaps, we can use them at the MAIN CAMPUS (GRADES K-5), here's why: Warren Tracey Davis is an award-winning portraiture artist & teacher specializing in acrylic painting and pencil drawings. His art can currently be seen in numerous galleries in Pennsylvania, including The CALI's here in Carlisle, Southern Alleghanies Art […]
Read more »